Flipbook Animation with the 13 Greatest Masterpieces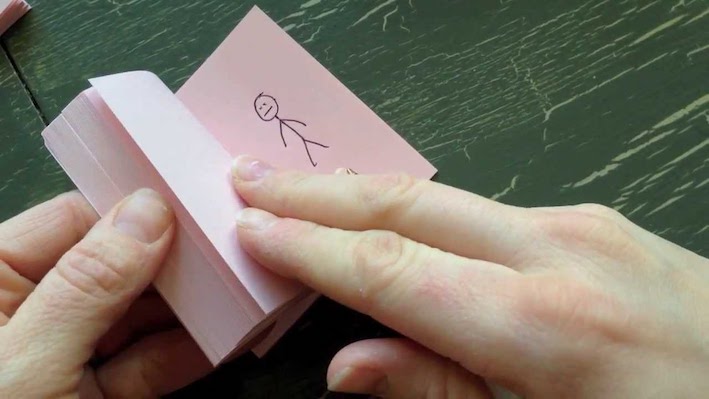 Welcome to the 13 Greatest Flipbook Animation Masterpieces, a site devoted to an art form halfway between book and movie. Enjoy your stay!
Create your own Flipbook NOW! Secure 25% for 12 months on all plans now! Enter the code

RobertT25
Table of contents
Want to know how to create a digital Flipbook on your own for Free?
I just recently stumbled upon this pretty great flipbook animation software YUMPU Publishing which lets you create a digital Flip book from PDF – for free! By simply uploading your PDF to their flipbook converter you will be able to create a stunning content flipbook with page flip animation, which your readers will love. Besides the amazing page flip animation, you will also find yourself able to add audio, video, visual images, and hyperlinks. This will make your flipbook animation publication even more interactive and engaging for your readers. Trust me – I got a ton of positive feedback, and you will too! There are even more options and features if you upgrade to their adFREE plan:
Search Engine Optimization

Google Analytics

No Advertisements

Privacy Settings

and many more…
The adFree plan starts at $19,95 per month and comes with a free 30-day trial, so you literally got nothing to lose. Sign up for a free account here.
If you want some additional information, check my article: "How to Make a Flipbook online".
So now, let's get back to the original and traditional flipbook animations:
Think about this: Every picture in a flipbook is still. It might be a drawing of a house, or a photo of a butterfly, or a picture of a dinosaur, but each image on each page is motionless on a piece of paper – it does not move at all.
However, when you flip the pages quickly, the pictures really look like they're moving. This is an illusion of course, but it's rather amazing how much they look like moving images.
The Entertaining World of FlipBook Animation
There was a time before movies when people were able to use a device to watch moving figures across a screen. They called them flip books.
These books contained a number of pages with pictures showing gradual changes in a particular scene from one page to the next. Once the pages are quickly flipped from one to the next, the images will simulate movement. You get that wanted flipbook animation.
Flipbook #1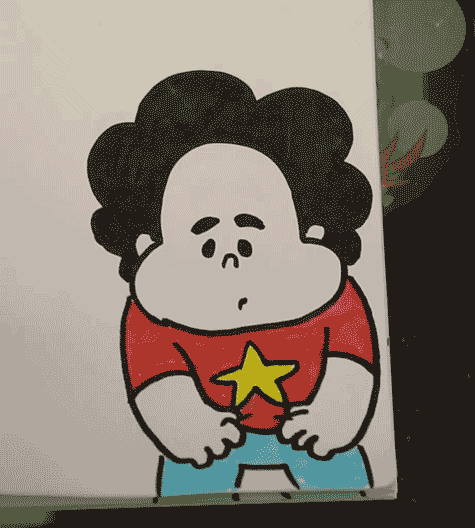 Flipbook #2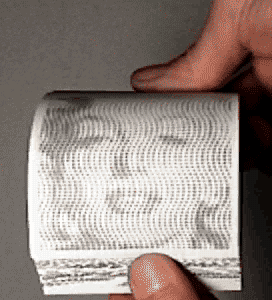 History
A Frenchman named Pierre-Hubert Desvignes had the idea for a type of flip book he called the folioscope around 1860. An English lithographer named John Barnes Linnett is credited with inventing the flip book.
In 1868, Linnett registered a patent for the invention he called the kineograph. He understood the benefits of presenting images in a linear sequence. The kineograph quickly became very popular. Many companies began releasing a variety of flip books for children as well as adults. Max Skladanowsky was a filmmaker from Germany.
In 1894, he was one of the first to exhibit his photographic images in flip book form. In the same year, Herman Caser invented a mechanized type of flip book known as the mutoscope. The pages were put on a turning cylinder rather than in a book. The mutoscope remained popular at amusement parks as well as arcades well into the twentieth century.
Henry Williams sold something called a file scope in 1897. This was a flip book inside a metal holder. When they were first sold, the public considered the flip book a fascinating form of entertainment.
Flipbook #3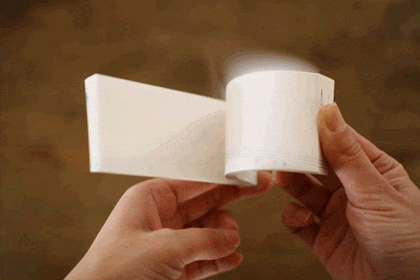 Flipbook #4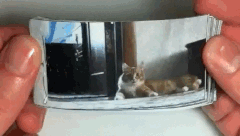 Flipbook #5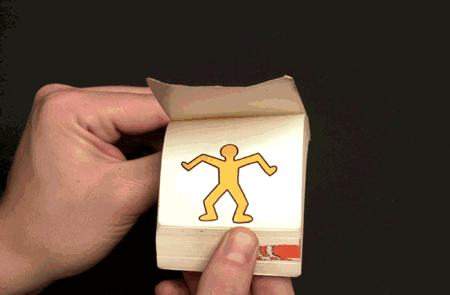 Flipbook #6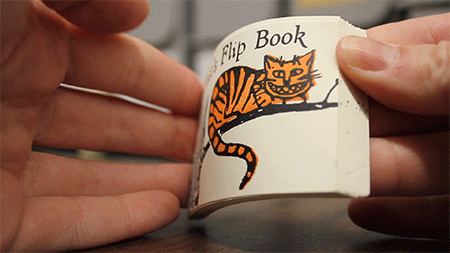 Collecting Flip Books
People who like to have flip book collections usually categorize them by date of manufacture as well as by subject. There are general headings. In the news category, King George waving to crowds is popular as well as Hitler giving a speech.
A favorite in the sports category is Babe Ruth hitting a home run, as well as Joe Dimaggio, hitting a sharp line drive. In the category of advertising, there is everything from cars to breakfast cereals as well as soft drinks and more in every possible size. There is even an adult category that has a number of old flip books depicting women removing their clothes.
Flipbooks are called by different names around the world. In England, they're known as flicker books. A flip book in France is called a folioscope. In Germany, a flip book is referred to as 'Daumenkino'. The most popular flipping books for collectors are those used as commercials for products.
A Cracker Jack flip book with Charlie Chaplin is very collectible. Another very collectible type are the ones that were given to promote movies. In animation, Felix the Cat is very popular. Currently, vintage flip books are very collectible. The rare flipbooks from the late 19th century to the beginning of the 20th century can be valued in the range from a hundred dollars to thousands of dollars.
Modern Flip Books
Today, flipping books are now provided to consumers as a toy or novelty prize for children.
In the past, flip books that let you create a flipbook animation could be found in boxes of cereal, a box of Cracker Jack and more.
Since its inception, flip books have been utilized by businesses as a promotional tool. Flipbooks are often used successfully to promote everything from cars to food products as well as movies and more. They are considered art and often will be used when publishing a collection of photography.
Flipbook #7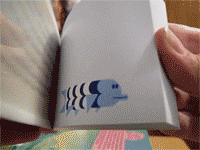 Flipbook #8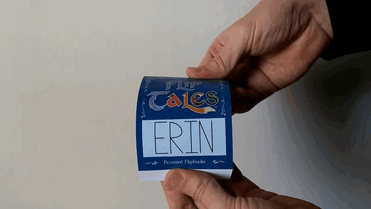 Flipbook #9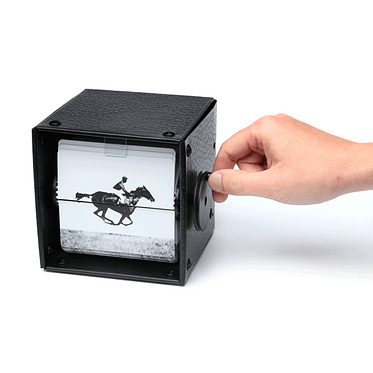 Making A Flip Book Animation
It is possible for children and adults of all ages to enjoy and learn the experience of making their own flip book. It can start with something as simple as notepads, post-it notes, tablet paper, and in some cases, even the corners of a book.
People seem to have better success when the paper they use is thin paper rather than thick. Thick paper can make the flipping process slow or jerky of your flipbook animation.
The more frames or pages a flip book has, the better it is at portraying movement by objects or characters. Once the paper is chosen, the next step is to design what will be drawn and the action that will be taking place. It can be something as simple as a bouncing ball or as complicated as a sports event.
Some people use photos for their flip books. People with experience in making animated flip books recommend starting drawing at the bottom of the paper. Starting at the top makes smooth animation difficult to achieve. It's possible to draw things in the scene that don't move.
Subjects that will be moving must be drawn differently on each page. Big changes will look like fast motion, and small changes will seem slower as the pages are flipped.
Flipbook #10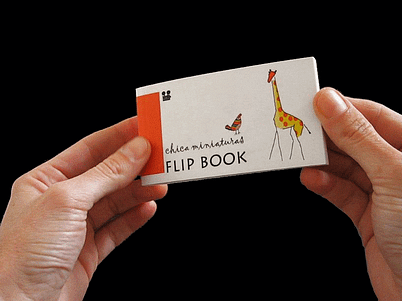 Flipbook #11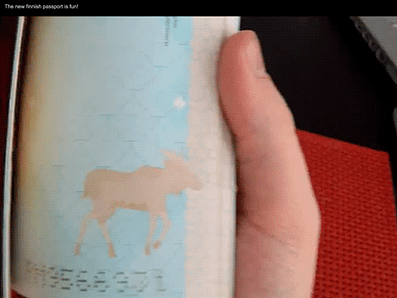 Flipbook #12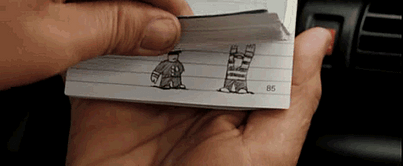 Flipbook #13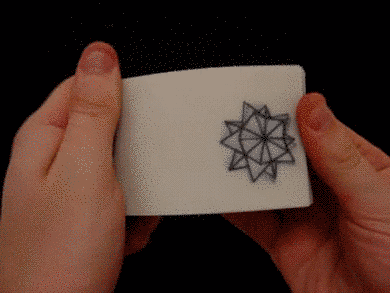 International Flip Book Festival
The London International Animation Festival (LIAF) sponsors an annual flip book challenge contest. New flippable books that were drawn are entered into the challenge from around the world.
The flip books provided come in a variety of sizes and styles. Flip book workshops are held. They also have flip book experts available during the event who share their flipbook animation expertise. The principles of flip book creation, as well as techniques involved in their creation, are discussed.
Flipping Books And Computers
It is possible to use computer programs for creating a flip book. If a person is proficient at using the painting or drawing programs on their computer, they can learn how to create a flip book using them.
It is possible to create a new picture, open it, slightly change it, and then repeat the process for a number of sequential pictures to create a flip book. This can be done with easy animation, but certain programs enable a person also to do this with actual pictures.
Once all of the new images are created, they can be printed, and the flip book assembled. With some programs, it is possible to easily incorporate elements of different pictures into a single flip book.
With the most recent flipbook software service YUMPU Publishing (as mentioned above) you not only get to create a digital flipbook for your product/work that includes not only pictures but also text, audio, video, and hyperlinks.
This publishing tool allows you to create a digital magazine, newsletter, flipbook, flyer, and much more! You also get to select to download your created flipbook and if any help is needed there is a great support team to help you out.
Try out the flipbook animation software YUMPU Publishing now for free!
I promise you won't regret it!
Leave a comment
Your message was sent successfully.
Your message could not be sent.